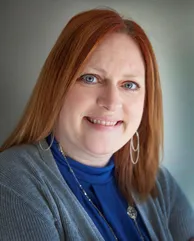 I have over 16 years of counseling experience specializing in families, couples, and grief. My previous experience in a local mental health center allowed me to see a variety of clients presenting with issues such as depression, anxiety, ADHD, OCD, post-traumatic stress disorder, and social anxiety disorder.
I have been trained as a Grief Recovery Specialist and am able to use these skills to help clients walk through their own grief journey. My belief is that grief is a unique journey towards a new normal and it is my privilege to help clients find this path. I am also passionate about helping families and children work through issues to become healthy.
I use a person-centered approach in working with my clients to give them ownership in their therapy. I want to empower my clients to take an active role in their treatment and walk them towards their own healthy choices for their lives. My office is a safe space for my clients and their families to learn, grow, and heal.